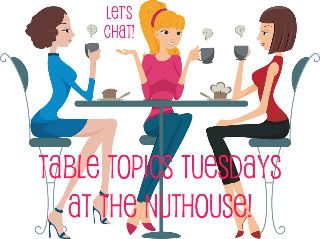 Poor Shannon has been battling Shingles, and needs some cheering up. So she has put the call out to all her blogging sisters, and has designated this week's Table Topics Tuesday to be "top five hotties day". Works for me.
5. Brad Pitt
I know, an oldie but a goodie. He hasn't been named sexiest man alive multiple times for nothing!
4. Alexander Skarsgard
Fans of True Blood need no introduction.
3, 2 and 1. Nina Dobrev, Ian Somerhalder and Paul Wesley
If you're not watching the Vampire Diaries, then why not???
That's one hot threesome they've got going on ;)
By the way, I think Nina Dobrev is gorgeous, and she reminds me of a young Teri Hatcher. What do you think?
So, my public service is done. I have dutifully delivered five hotties (even if one of them is a girl!) to cheer up Shannon. If you'd like to see more hotties, or participate in Table Topics Tuesdays, then click on the button at the top of this post.