So....my great bloggy buddy Brandy has just started Weight Watchers and is blogging about it.
Cue the applause...Fat Ass Friday!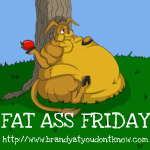 Brave girl that she is, Brandy has revealed her starting weight and is documenting her weekly weight loss for all to see. Perhaps she thinks it is the motivation that she needs?!?
I encourage you to head over to Brandy's blog (click on the button above) and send her some love. By the way, her blog is hilarious, so you'll probably want to follow her as well!
As for me, I'm feeling a bit ambivalent about the whole weight loss thing.
At the moment I'm working on self love. In my head I know that you can love yourself and still work on losing weight, but I'm having trouble reconciling it all.
I've had a few half-hearted attempts to lose weight over the last few years but -NEWS FLASH- it's hard work!!! I have to eat a lot less than I want to and move a lot more than I want to. And it's so slow :(
Maybe Brandy's journey will spur me on.